From the President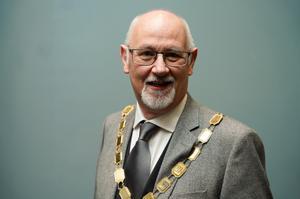 As I approach the end of my first year as President, I have been able to enjoy the return to in-person meetings and events post the COVID-19 pandemic. Interacting in person is always best, but I appreciate that this is still not possible in all cases with both remote and physical engagement.
The positive of a hybrid method of interaction is that it opens the Institute up to a wider, far-reaching audience of members, affiliates and other stakeholders, across the UK and our international base; I am very pleased that the Institute will continue to operate in this way.
During this year, I, together with the Board, your Council and other key and senior Members have been working with the team at Central Office to support, influence and respond to a variety of activities.
Many of these activities link directly to the following external drivers:
COVID-19 – post lock-down and readjustment.
Climate change – achieving net-zero. As President, I Chair the Institute's Climate Change Group, which launched its guidance during this year. This work requires cross sector working with fellow professionals and organisations.
The Building Safety Act 2022 and the new building safety regime. The implementation of the Act will reach its climax during 2023. A conference on the implications of the Building Safety Act is being held following the 2022 AGM, with inclusion on the website and briefing information for members and affiliates. For example, this will include information on how CIAT will introduce its accredited Register for Principal Designers, as duty holders under the Act, and how we prepare for the new regime in Scotland.
The ongoing impacts of Brexit – our involvement and influencing continues via the Construction Leadership Council.
Cost of living and economy as it impacts members and affiliates. Your Finance Committee and Executive Board will be addressing this in more detail during 2023.

Other activities are to ensure the continued growth, influence and impact of the discipline and profession for the members and affiliates but also, and as required, to society.
It must be remembered that CIAT is a regulated body under its Royal Charter, with two protected titles, Chartered Architectural Technologist and CIAT Chartered Practice. The value of these must not be underestimated especially as Chartered Architectural Technologists are vital to the success of the Building Safety Act and how we, as the built environment sector, lead the changes necessary to reach net-zero.
I take pleasure in detailing some key outputs over the last year to give a snap shot of the type of activities which the Institute has been involved in, (all activities are reported to Council at its spring and autumn meetings; to learn more of these, please liaise with your Councillor, Regional/Centre Committee or aspirATion Group):

Where it's AT
The Where it's AT campaign: a fresh new careers film along with a number of case studies to showcase the many facets of Architectural Technology as a discipline and profession. The campaign launched on 1 September 2022. To view these films and to share with your colleagues or others, please visit architecturaltechnology.com/whereitsat or our YouTube channel. This included a number of EDI focused films which highlight the inclusivity and diversity of the profession and the AT community.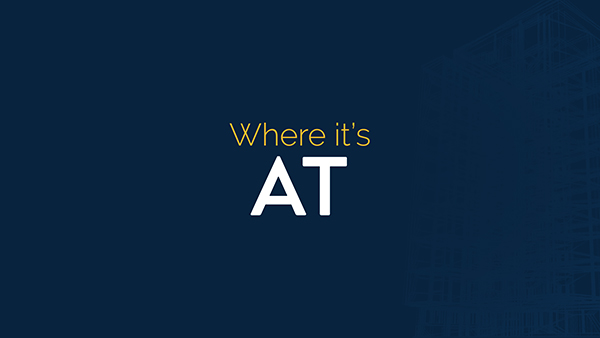 The AT Awards 2022 - Celebrating the best in AT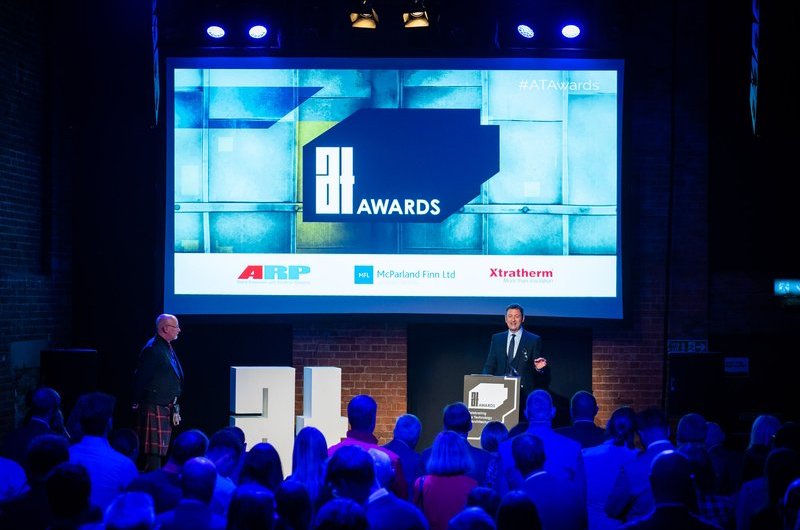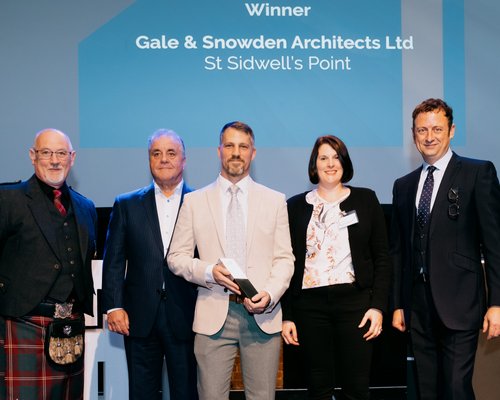 Returning to the Village Underground in Shoreditch, East London, the AT Awards are a showcase of the best in Architectural Technology as a discipline and as a profession. The event was a fabulous opportunity to network once again with friends and colleagues across the built environment and illustrate the importance and value of Architectural Technology and how the discipline, and those who practice, are key solution finders and produce projects whose form and functions ensure the project meets the client requirements as well as its users. The autumn issue of ATJ featured the Finalists, winners and recipients.
The event also provides the opportunity for the Institute to recognise our academic partners with the presentation of Accreditation or Approval Certificates for academic undergraduate and post graduate programmes and those educational establishments who become a Centre of Excellence.

Website development for CIAT and AT
As one of our key communication and PR tools, the upgraded website will be launching late 2022 with enhanced navigation and additional features. We listen to users about how we can and should improve the website so we can respond with a website accessible for all. Look out for this!

Consultations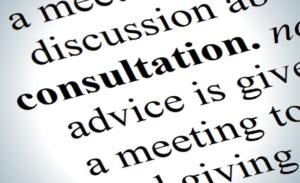 The Practice and Technical Department under the guidance of your Vice-Presidents Practice and Technical, have been heavily involved with responding to many consultations across the Institute's base, but predominantly the home nations and the Republic of Ireland. The new building safety regime has resulted in a plethora of consultations, to name one area where activity has continued at a pace as well as the consultations in relation to reaching net zero carbon.



Developing relationships
Earlier in the year, we developed and reaffirmed existing relationships with external organisations including:
the National Standards Authority of Ireland (NSAI), to ensure that the Institute is represented on committees and contributes to Standards in Ireland;
Barbour Index with a view to reach manufacturers to raise awareness of information desired by specifiers and to ensure that the best possible and informed specifications are issued; and
The Planning Portal, which builds upon an already good and solid relationship, and in April 2022 CIAT's sponsorship to the 'Find a Trade Professional' section of their website came into effect.

Documents and support
The Practice and Technical Department continued to ensure it reviewed, maintained and introduced new documents and support to all those who practise Architectural Technology, to ensure the support and information it provided remained relevant and current. This included publication of a revised Code of Conduct that came into effect in January 2022.
Conduct Report
Leading and promoting the discipline of Architectural Technology and protecting its standards
The Institute's Conduct Committee meets to review all complaints that are raised against members and affiliates of the Institute, as well as provide guidance to ensure clarity in terms of the Laws of the Institute. Between November 2021 and November 2022, the Conduct Committee held six meetings. At these meetings five Conduct Hearings and four Complaint Reviews took place.
The ongoing issue of providing terms in writing and being satisfied that those terms have been accepted, together with issues relating to professional indemnity insurance continue to be the main areas of complaint.
Enhancing the profile of the discipline, the membership and the Institute
As well as assessing and reviewing complaints, the Conduct Committee also review documents and information to ensure that the discipline of Architectural Technology is effectively promoted, and that there is clarity in order that the members comply with the Code of Conduct.
Providing services of the benefit of members and society
The Code of Conduct is a working document and is constantly under review by the Conduct Committee to ensure it is relevant to current working practices and legislation. As such there is a further change recommended for approval at this year's AGM.

Accreditation
As reported under the AT Awards item, one of the Institute's principal partners to support and promote the discipline and profession are the educational establishments that we work with globally. CIAT's portfolio consists of a total of 58 programmes, the Institute's highest number to date. Of these, 39 are at Honours degree level, eight at Masters level and 11 are below Honours degree level. The growth particularly in the Republic of Ireland and overseas is a recognition of our reach. To see the full list click here.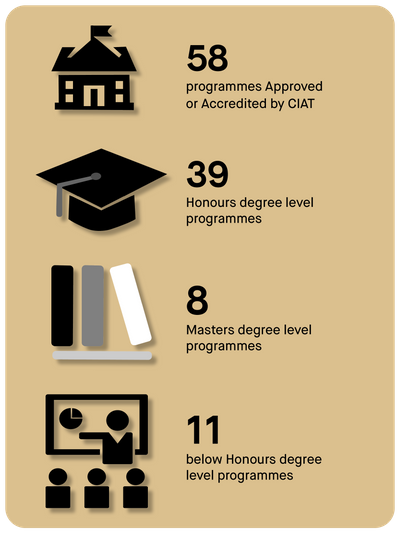 Our newest programme includes the BSc (Hons) Environmental Architecture and Urbanism programme offered by Ain Shams University in Egypt which received Accreditation in Principle in September 2022.
In the Republic of Ireland, out of the eight Architectural Technology qualifications offered, we Approve or Accredit six of these at:
South East Technological University (formerly Waterford Institute of Technology and Institute of Technology, Carlow)
- Bachelor of Architectural Technology (Approval - SETU Waterford campus)
- BSc (Hons) Architectural Technology and BIM Technology (Accreditation - SETU Waterford campus)
- BSc (Hons) Architectural Technology (Accreditation - SETU Carlow campus)
Technological University Dublin
- BSc (Hons) Architectural Technology (Accreditation)
Atlantic Technological University (formerly Galway-Mayo Institute of Technology and Letterkenny Institute of Technology)
- BSc Architectural Technology (Approval - ATU Galway campus)
- BSc (Hons) Architectural Technology (Accreditation - ATU Galway campus and ATU Letterkenny campus)

Quality Assurance Agency (QAA) published revised Subject Benchmark Statement for Architectural Technology
A new Subject Benchmark Statement (SBS) for Architectural Technology was published in October 2022. The revised SBS was developed by an expert subject advisory group, supported by extensive consultation with disciplinary communities in 2021 and 2022. The SBS is a document that defines what can be expected of a graduate in the subject, in terms of what they may know, do, and understand at the end of their studies. The SBS also outlines the benchmark required at Masters level study, thus demonstrating the maturity of the discipline and a high level of recognition within higher education.
The revised document also considers how practice within the discipline addresses wider social goals, including:
equality, diversity and inclusivity;
education for sustainable development;
the requirements of disabled students; and
enterprise and entrepreneurship.

The SBS underpins all CIAT Accredited Honours and Masters degree programmes; its importance for CIAT and the discipline is significant. The revised SBS can be downloaded here. There is also a summary document designed to provide a short and accessible overview of the main document for students, employers and academics.

Apprenticeships
The Institute continues to work with relevant stakeholders across each of the four home nations. This activity is reported to Council so it can be fed back to the Regional Committees to keep them updated as they relate to their area and nation. For further information click here.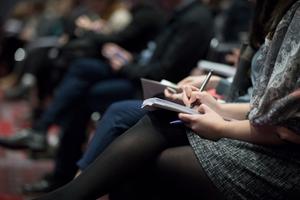 CPD Register and CPD Catalogue
The AT CPD Register has 16 providers that offer 62 courses on topics ranging from BIM, conservation, fire, inclusive environments, asbestos management, insulation, contract awareness, leadership and professional development, off-site construction as well as zero carbon.
In March 2022, we launched the CPD Catalogue which offers members and affiliates further opportunities to gain CPD. The CPD Catalogue is where recorded events arranged by Regional and Centre Committees and aspirATion Groups are listed. Members and affiliates can also find resources and upcoming events from like-minded organisations, though this content has not been assessed or certified by the Institute.

Specialist Registers | Chartered Environmentalist and CIAT Accredited Conservationists
Both the Chartered Environmentalist and CIAT-Accredited Conservationist Schemes offered by the Institute have undergone a complete review to make them more streamlined and coherent. The two Registers were relaunched in October 2022, and both now have prescribed submission dates throughout the year. The management of these Registers is being passed to the Membership Department to lead on.

aspirATion initiative review

The aspirATion initiative, launched in 2015, is undergoing a review to improve engagement and implement a structured plan to encourage and develop Architectural Technology's future leaders and succession planning.


Conferences/events
Manipal International Symposium on Design (MISD)
CIAT co-hosted the virtual Manipal International Symposium on Design in November 2021 alongside Manipal Academy of Higher Education in Dubai.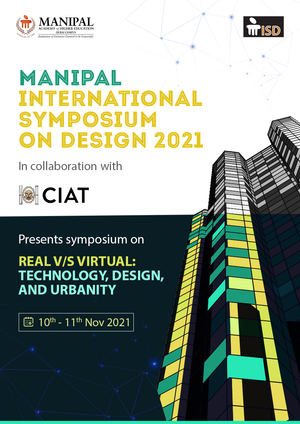 Immediate Past President Eddie Weir PPCIAT MCIAT gave a keynote speech to open the two-day event. The event was also supported by the following members/affiliates covering aspects about the digitalisation of learning, remote client interaction and transitioning from studying to employment:
Gordon Chisholm MCIAT, Waterford Institute of Technology
Dr Jon Stinson, Building Research Solutions
Paul Turpin ACIAT, IBI Group
Tim Danson, University of Brighton
Alex Judd MCIAT, HNW Architects

CIBSE Building Safety Act/Golden Thread events
In July, a contra deal was signed with CIBSE for their upcoming Building Safety Act/Golden Thread series. Members and affiliates were offered a discount on the ticket price in return for CIAT promoting the events, the first of which took place in September 2022 in London.
Action Coaching
The Institute is hosting the first of two business coaching workshops in December 2022 in collaboration with Action Coach, aimed at CIAT Chartered Practices, business owners or those able to make strategic decisions within the business on challenges including improving profitability, marketing and promotion and building a positive culture.
Members will then be able to explore whether more business coaching is appropriate to them at their own cost. A second workshop will be held in early 2023 for those interested in setting up their own business.

For members and affiliates
Chartered Architectural Technologist Short Course
The course developed in collaboration with Institute Moderators and Assessors as well as CIAT Chartered Practice, Corstorphine + Wright, was delivered to over 400 Associate members and affiliates who are being supported on their journey to Chartered Membership. Engagement from the following Regions and Centres helped build traction: East Midlands, Northern, Northern Ireland, Republic of Ireland, Scotland East, South East, Wales, Western, West Midlands and Yorkshire.
Practice Engagement
Meetings and discussions have been held with varying practices to promote the discipline and profession. These include, but are not limited to: AECOM, Gensler, IBI Group, Atkins, Stride Treglown, BSBG, BPTW, Axis Mason, DLA Architecture, P+HS Architects, Foster + Partners, Powell Dobson Architects, Keppie Design, Todd Architects, Whittam Cox Architects, Fletcher Priest Architects, Bailey Partnership, Ryder Architecture etc.
These relationships are critical to support the progression of AT professionals through their career, and to the built environment sector to ensure that relevant and competent professionals are joining the industry to maintain the skills requirements for its success of the industry and thereby supporting UK PLC.
Affiliate Group Body Corporate Scheme (AGBC)
The new scheme. launched 1 May 2022, allows AGBCs to create a new business-to-business relationship, or take an existing relationship, with the regulatory and lead body in Architectural Technology, to the next level.
There are three tiers and packages available to AGBCs:

Benefits and subscription per package can be found here.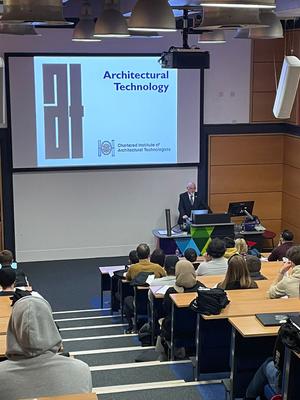 Insight into Architectural Technology events
Moving out of the pandemic, the 'Insight into Architectural Technology' roadshow recommenced and delivered in person. Hundreds have attended to hear from a range of speakers in the profession, with a keynote address from either the President or Vice-President Education:
Edinburgh Napier University (Region 14)
University of Northampton (Region 08)
Birmingham City University (Region 05)
Glyndwr University (Region 16)
Highlands College (Region 11)
University of the West of England (Region 06)

Fellow Membership, FCIAT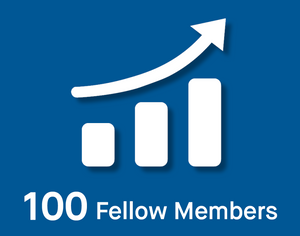 This milestone was hit!

Honorary Fellow, HonFCIAT recipients
The first three recipients for the esteemed Honorary Fellow membership were presented at the 2022 AT Awards:
Francesca Berriman MBE HonFCIAT
Professor Sean Smith HonFCIAT
Professor Jaffer Khan HonFCIAT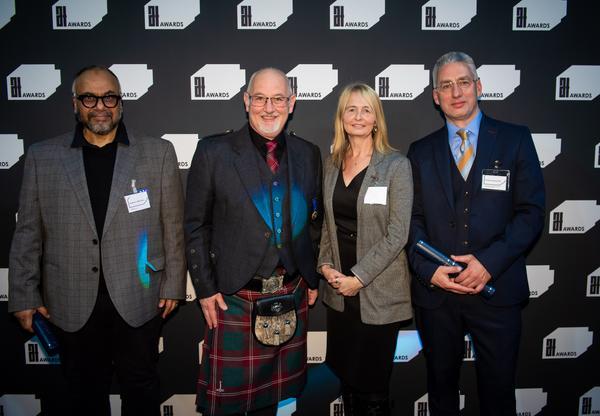 Honorary Fellow is awarded to a non-member or affiliate:
who is eminent in their field, and whose work has had a positive impact on Architectural Technology; and/or
for their significant contribution to and/or excellence in Architectural Technology; and/or
who has a significant and continued association with Architectural Technology.

Honorary Fellow is by nomination only and cannot be applied for and nominations are considered by the Honorary Fellow Panel.

All these activities must feedback to the Strategic and Corporate Plans 2018-23 – the current Strategic Aims are:
leading and promoting the discipline of Architectural Technology and protecting its standards;
enhancing the profile of the discipline, the membership and the Institute;
aligning, collaborating and partnering;
providing services for the benefit of members and society; and
remaining an effective and financially viable Institute.

Whilst implementing its aims, CIAT will continue to uphold our values of
integrity and ethical behaviour;
transparency and professionalism;
innovation and creativity;
equality and diversity;
quality and standards;
collaboration and inclusivity; and
health, welfare, and safety.

Francesca Berriman, CIAT's CEO since 1995
After 34 years with the Institute, Francesca has decided to retire from CIAT and take some well-deserved time out. In her time with the Institute, Francesca has become the trusted face of the discipline and CIAT, and as such is highly regarded, respected and an inspiration to many. This was recognised in 2012 when the MBE was conveyed on her by Her Majesty, Queen Elizabeth II for her services to Architectural Technology. As Chief Executive, Francesca has guided and led an array of members and a workforce of staff across four decades to achieve a number of milestones and advanced recognition for the discipline, profession, membership and Institute – in the UK and internationally. On behalf of Executive Board and Council, I would like to wish Francesca all the very best for her future. We thank her for her dedication, strength of character and her commitment to the discipline and profession of Architectural Technology and to our Institute. As an Honorary Fellow, I have no doubt that our paths will continue to cross.
Thank you



Kevin Crawford PCIAT
President
---
Summary financial statements
The full financial statements were audited by Begbies, Chartered Accountants and approved by Council on 10 September and signed on its behalf by Kevin Crawford PCIAT, Chair.
Summary balance sheet

| | 30 April 2022 £ | 30 April 2021 £ |
| --- | --- | --- |
| Tangible assets and investments | 1,256,057 | 1,259,019 |
| Current assets | 2,132,759 | 1,917,581 |
| Current liabilities | (191,989) | (183,095) |
| Provision of deferred taxation | (117,363) | (89,201) |
| | | |
| Net assets | 3,079,464 | 2,904,574 |
| Capital and reserves | 3,079,464 | 2,904,574 |
Trustees
| | |
| --- | --- |
| President | Kevin Crawford PCIAT |
| Immediate Past President | Eddie Weir PPCIAT MCIAT |
| Honorary Secretary | Gordon Souter MCIAT |
| Honorary Treasurer | Doug Fewkes MCIAT |
| Vice-President Education | Carl Mills FCIAT |
| Vice-President Practice | Dan Clements MCIAT |
| Vice-President Technical | Steven Hedley MCIAT (until December 2021) |
| Councillor Trustee | Jill Alexander MCIAT |
| Councillor Trustee | Josie Hodges MCIAT |
| Councillor Trustee | Michael O'Keeffe FCIAT |
| Councillor Trustee | Jamie Yorkston MCIAT |

Deputy (Councillor, without voting rights on Executive Board)
Nooshin Akrami MCIAT
Chief Executive
Francesca Berriman MBE HonFCIAT HonDTech