Dan Rossiter FCIAT - 'The BIM expert'
---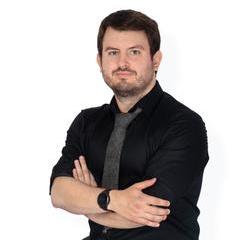 Background
Dan has always been fascinated by how things work which is what led him to our sector. His interests within Architectural Technology have been quite broad, from technical detailing, indoor environments and now digital information. However, each has had a common theme - improving the information that is produced to result in a better building.
Current role
Dan is involved in several organisations. His primary role is Senior BIM Communicator for BRE, where he develops and delivers the BIM related education, auditing, research, and advisory services. He also represents BRE on British Standard, European Standards and International Standard Committees around BIM and construction information. He co-founded and is the Chief Integrity Officer for dotBuiltEnvironment, a pan-industry digital disruption group alongside Ryan Tennyson, another member of CIAT, promoting good practice digitisation within our industry. Dan is also a research associate with Cardiff University undertaking EU BIM research on individual competency. He sits on several committees including G4C's National and Welsh Committees, CIAT's BIM working group and was previously Chair of the CIAT Wales Regional Committee.
Finally, Dan has a blog, 'There's no BIM Like Home' where he applies BIM Level 2 processes to his own home.
Why Dan joined and qualified
Dan joined CIAT because he recognised the network it would provide him to develop professionally. Following his CIAT-Accredited course at Coventry University, joining CIAT helped expose him to the industry while also providing the most streamlined route to becoming a Chartered professional. Dan also believed that CIAT would align with his interests in science and technology.
How Dan qualified
Dan became a Chartered Architectural Technologist in April 2015. Originally, he was collecting POP record information but after CIAT's Membership Director informed him about the professional assessment route he changed direction and found that he had collected enough information. As such it only took him a few weeks to collate and complete his application. Dan went to CIAT HQ, had a very relaxed professional interview and found out he was successful on the day.
Benefits
Becoming Chartered was important to Dan because of his age. Having just turned thirty, he can be dismissed as inexperienced. However, he believes that being a Chartered professional allows him to challenge this perception by showing that he has both the knowledge and experience needed to perform his duties and challenge more established professionals.
Achievements
In February 2014, Dan was certified as a RICS Certified BIM Manager. In July of 2014 he was nominated for, and awarded the Construction Excellence in Wales Young Achiever of the Year award for his work on BIM and indoor environment research. In June of 2017 Dan was appointed as the Convenor of the International Standard Organization's (ISO) BIM Terminology Task Force. He was appointed as Convenor of the European Committee for Standardization (CEN) BIM Terminology working group in November of 2017. Finally, in September 2018 Dan was awarded the inaugural Chartered Technologist of the Year Award at our AT Awards.