Public Procurement
The Institute believes there is an opportunity for Public Bodies to lead by example when procuring services for architectural design. In NEC4 contracts and similar, Public Bodies should change their policies to ensure sustainable and low carbon specifications are included as a requirement and embedded into the brief as mandatory. The Institute recognises that there is a potential financial cost as a sustainable or low carbon design can be more expensive but would encourage Public Bodies to absorb this cost with the belief that the cost of designs would reduce over time as they become more utilised. A broader view of the long-term savings should be considered in preference to immediate cost savings. However, the Institute would urge caution when specifying products as they must be the best product for the overall design of the building and consideration must be given to how available specific products are in large quantities.
Members working in Public Procurement should be aware that local authorities may request a Carbon Reduction Statement prior to bidding for public procurement works. The Institute is developing its own Carbon Reduction Statement and plan that you will be welcome to review and adapt for your own place of work.
Members and affiliates of the Institute working within positions of influence in Public Bodies are encouraged to bring the above suggestion to the attention of the Procurement Departments.
Members and affiliates should also be cognisant of the Construction Playbook, in particular sections related to Value Based Procurement. Please find the link here.

Standards
As an Institute we will always aim to aid the continued improvement of standards and would encourage clearly defined and high standards set out in legislation. We do this by responding to consultations, calls for evidence and challenge where necessary. Members and affiliates should always work to current legislation set out and within the parameters of Building Regulations as a minimum standard, in respective countries of work. The Institute also acknowledges that the current legislation in many countries on its own does not go far enough to tackle the Climate Change issue but also acknowledges the conflict that arises between clients and members if the Institute mandates members to work to higher standards than the minimum laid out by legislation.
There are additional standards that members and affiliates may choose to work towards. These standards go above and beyond what is stipulated in Building Regulations and legislation with some being internationally recognised:
BREEAM
PassivHaus

Supporting clients, contractors, and sub-contractors
The Institute recognises that a move towards low carbon and sustainable design requires engagement and understanding from everyone involved in the design and construction process. Clients, contractors and sub-contractors must all understand why low carbon and sustainable design is important and the benefits to reducing Climate Change, but also the benefits to the individual. Understanding must also be created for those who may be nervous about deviating away from traditional construction methods. Clients, contractors and sub-contractors all need to collaborate to achieve the best outcome.
Members and affiliates of the Institute are encouraged to share the provided information and guidance with clients, contractors and sub-contractors in a bid to convey the importance and benefits of sustainable design.

Education
A broad knowledge set and the ability to apply aspects from the three pillars of sustainability (environment, economy, society) are essential at an early stage in the Architectural Technology professionals' career and the Institute recognises that Architectural Technology professionals are in an optimal position to lead on climate change issues. Their core skills are in achieving sustainable solutions to architectural and design challenges, and they are already implementing the approaches necessary to respond to the climate emergency, in terms of reducing the impact of construction methods, materials and components and minimising carbon emissions. This would include minimising waste and unsustainable materials and components, optimisation of the production of a building including retrofit, maximising the use of sustainable materials and components to improve performance in use including energy efficiency, disassembly, and recycling of building materials and components.
The Subject Benchmark Statement, recently updated, has a focus on sustainability. Please see here: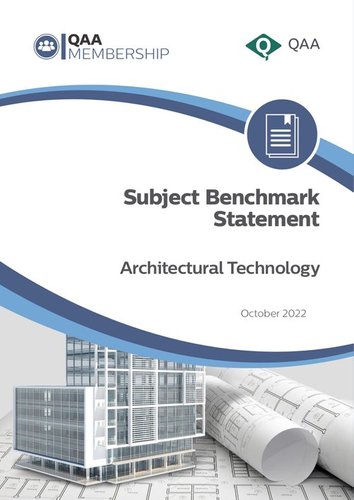 Click to view this PDF online


CPD and Knowledge
As a requirement of membership, all members (excluding students) must complete a minimum of 35 hours CPD each year. All members must recognise that the knowledge obtained when qualifying does not remain current and must be updated by ongoing development. It is the responsibility of the individual to select their CPD and areas of focus. Whilst the Institute does not stipulate specific topics that must be covered, it is strongly recommended that all members incorporate CPD related to Climate Change, low and zero carbon design, and sustainability into their CPD in order to have the relevant skills and knowledge for the future.

Lobbying
The Institute will lobby and challenge Government in an appropriate and proportionate manner through partnership work with, for example, CLC, CIC, sister institutes and through direct correspondence with government departments. In respect of Climate Change, the Institute will also continue to respond directly to consultations. Members and affiliates are asked to respond to consultations via formal routes or through the Institute to achieve a collective response to ensure a professional but impactful message.
All members and affiliates are asked to respond to consultations listed in AT Weekly either directly or via the Institute. Members are asked to bring matters to the Institute's attention that require a formal response or challenge.

Employers
The Institute encourages all employers to set out a clear carbon reduction statement and plan. detailing how they will reduce their impact on Climate Change and the environment and how they will support their employees in this joint goal. Members and affiliates that are employees at companies should engage with their company's plans and encourage them to reach the highest standards by making recommendations and leading by example.
All employers and employees are encouraged to work together to prepare and implement an actionable plan to reduce the impact of their business on Climate Change. Employers may wish to investigate participating in schemes such as Race to Zero and Construction Zero.