About
For the effective operation for any professional body, it is essential that it elects positions from amongst its membership to allow it to function within its Charter.
These positions are open to Chartered Architectural Technologists who are invited to give their enthusiasm, experience, strategic leadership, skills and time in a voluntary capacity to the work of the Institute set within the Strategic and Corporate Plans, as approved by Council. Contributing in such a capacity is two-way and Chartered Architectural Technologists who have been involved have benefitted and learnt from their experiences.
Within the Institute's governance, there are a number of core roles collectively known as the Honorary Officer positions. These are the President, Honorary Secretary, Honorary Treasurer, Vice-President Education, Vice-President Practice and Vice-President Technical. These are all undertaken by Chartered Architectural Technologists in a voluntary capacity other than expenses which are paid for by the Institute.

Following the call for nominations for 2023, you can read the manifestos for each candidate below:

Honorary Secretary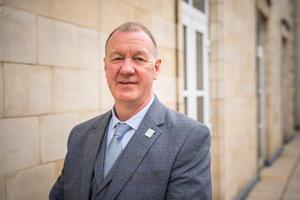 I am delighted and honoured to have been nominated again for the position of Honorary Secretary and if elected, I will continue to serve the Institute with immense pride, passion and dedication.
I have been working in the construction sector for over 35 years. I have worked mainly in the house building sector holding several positions from Architectural Technician to Technical Director. My experience within the house building industry has provided me with the skills I believe are required to be Honorary Secretary of our vibrant and continually evolving institute.
I have been a Member of CIAT since 1993 and have held numerous offices at national and Regional level and also represented the Institute on a number of external bodies. During this time, I have gained a sound knowledge of the workings of the Institute and it is this acquired knowledge which I would utilise to maintain the reputation and stature of CIAT.
This last year has seen changes to the structure of the Institute that will take us forward with a new dynamic and direction. Whilst these changes will invigorate CIAT we must ensure our core values are not forgotten. I can assure you all that I will work efficiently and effectively with our new CEO for her vision for the future.
I am passionate about the Institute and I believe I have exhibited this through the service I have undertaken to date. I would very much like to continue this service by being re-elected to the post of Honorary Secretary. With the appointment of the new CEO, it is particularly important to have an element of continuity which I will be able to provide.
The position of Honorary Secretary is to provide support to the CEO to ensure the governance of the Institute is effective. As Honorary Secretary, I would maintain this by dealing with potential issues swiftly and efficiently as well as providing support to my fellow Officers and the staff at City Road. I am not afraid to make the tough decisions when/if required.
It is my belief that the position of Honorary Secretary requires a steady and level-headed approach, with good analytical and mediation skills to ensure the smooth operation of the Institute and the correct application of its policies and procedures. I possess the necessary attributes to ensure this process is maintained.
CIAT continues to move forward in stature and recognition both nationally and internationally and I would endeavour to ensure any new policies and procedures put in place enhance this status, now and into the future. I would also strive to ensure the workings of the Institute continue smoothly and deal with potential issues swiftly and efficiently.
An important part of any organisation is to ensure that the Regulations and policies are current, fit for purpose and as future proof as possible. If elected, I would continue to work closely with the staff and other officers to ensure the currency of the Laws of the Institute. Those of you who attend the AGMs will know that this is especially true of the annual changes to the Code of Conduct.
I will also work closely with the CEO, staff and Honorary Officers to drive forward the Corporate and Strategic Plans for the benefit of the Institute.
I do not have an agenda for radical changes however if I see an opportunity to change systems for the benefit of the Institute then I will work with the appropriate Officers and staff to implement the changes as smoothly as possible.
If elected I would serve with diligence and dedication for the betterment of the discipline of Architectural Technology and in particular the Chartered Institute of Architectural Technologists.
The position of Honorary Secretary requires the review of a lot of documentation which can be undertaken remotely. Therefore, the position does not require an excessive time away from home or work which I can easily balance.
I would consider it an honour and a privilege to be given the opportunity to serve the members of the Chartered Institute of Architectural Technologists for a further two years.
Vice-President Education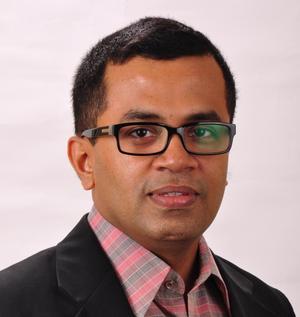 Experienced architectural academician and Fellow with a demonstrated history of working in university and higher education industry. I am currently working as Associate Professor and Programme Leader at School of Engineering, Architecture and Interior Design, Amity University Dubai since November 2022. My academic and research focus include learning and teaching-based pedagogical research in architecture and design education, intercultural communication and architectural documentation, urban and conservation studies; and curriculum development leading to international accreditation. With a strong academic and professional background, I have received a Doctorate in Architecture from the Welsh School of Architecture (WSA), Cardiff University, Wales.
An architect by profession, I pursued my architectural studies at Sir J.J. College of Architecture, Mumbai; India (M. Arch, 2004) and Pillais' College of Architecture, Navi Mumbai; India (B. Arch, 1997); in addition to a Diploma in Indian Aesthetics (2001) from the Department of Philosophy, University of Mumbai. As the founding member and first chairperson (Professor) at School of Design and Architecture (SoDA), Manipal Academy of Higher Education (MAHE) – Dubai, (August 2004- November 2022) I established their interior design and architecture programmes. My earlier academic stints include Sir J.J College (2002-04) and Rizvi College of Architecture (1999-2002), Mumbai; India. I also played a key role in the implementation of outcome-based education (OBE) in curricular design, international accreditation and assessment for the programs at SoDA, MAHE - Dubai including CIAT - UK and Council of Architecture (CoA), New Delhi, India. My other research interests include urban studies and historic architectural developments through ongoing collaboration (2013 till-date) with the Sharjah Museums Authority (SMA), Government of Sharjah - UAE focusing on museum typology and its correlation as cultural denominators with reference to the urbanity of this region. I received the Golden Visa for Creatives (Nov. 2022) through recommendation from UAE Ministry of Culture and Youth recognising my ongoing research in UAE. My other areas of interest include issues of sustainability in the built environment, fine arts, and critical theory.
As a built environment academic at SoDA, MAHE - Dubai Campus (August 2004 – November 2022), we received the accolade of being the first Indian school to be accorded CIAT Accreditation in 2019; further completing the long-term Accreditation and validation process in 2020 during the challenging period of COVID-19 pandemic. SoDA – MAHE Dubai was the first institution in UAE and Middle East region to receive this accreditation. I successfully completed my membership criteria for MCIAT and FCIAT in 2022. The significance of Architectural Technology in the built environment is explored in my doctoral studies titled 'Classification of the approaches to learning adoped by students of architecture in their design coursework'. This research undertaken at WSA, Cardiff University (July 2011 - August 2018) identified the pedagogical gap in students' learning approaches pertaining to architectural education. The importance of technological domain in the built environment parallel to three-other domains of art and aesthetics, architectural theory and socio-cultural understanding is reflected in my pedagogical research and administrative experience of architectural education within UAE and India over the past three decades.
Additionally, in the western context of United Kingdom, Europe and United States of America; my research at WSA gave me the impetus in further understanding the divergent attitude given to Architectural Technology in schools of architecture and accreditation bodies. This perceived gap in understanding Architectural Technology in built environment was the precursor in gaining Chartered Membership and pursuing Fellowship with CIAT.
The doctoral hypothesis is amalgamated in my academic and research career through an illustrative account of nine students of architecture, seven of whom have reinforced grounding to Architectural Technology amongst the four established pedagogical domains in architectural education. This illustrative account of the nine students was presented in a keynote titled "Technological Domain – Paradigm Shift in Students' Approaches to Learning in Architectural Design", at the CIAT Conference 2019 – Architectural Technology in India in New Delhi – India (April 2019) supported by All-India Council for Technical Education (AICTE) and CoA, India. The message of the importance of Architectural Technology and CIAT's role was well-received by architectural and built environment professionals of the world's largest democracy; India. I further presented a paper titled "Adaptive Re-use Of Buildings in UAE – Dubai in Perspective", listed as a CPD at the Architecture & Design Talks, BIG 5 Exhibition Dubai World Trade Centre in November 2019, emphasising on the role of Architectural Technologists and CIAT in the Middle East and North-Africa region.
For the Honorary Officer elections 2023, I thank my fellow Chartered Architectural Technologists for nominating me for the position of Vice-President Education. In this manifesto, the key message is to disseminate my hands-on experience and understanding of the built environment as an academic-researcher and Chartered Architectural Technologist representing the ethos of CIAT. As Vice-President Education, the key goals that I would like to achieve will include:

disseminating the importance of Architectural Technology and CIAT in the MENA region and the Indian Sub-continent; in addition to continued synergies in the UK and European context
fostering global partnerships, international and industry-based collaborations between CIAT and major institutions in UAE and India; in addition to the UK and European context
synergising research-based collaborations between CIAT and major higher education institutions in UAE and India; in addition to the UK and European context
creating a communication corridor for CIAT with institutions offering architectural education in India and UAE to encourage the value of international accreditation of their architecture programmes
channelising collaborations between CIAT and professional bodies in India including the IIA and Practicing Engineers, Architects & Town Planners Association of India; as well as UAE and the MENA region
With a license to practise architecture in India accorded by the CoA, India and an Associate of the Indian Institute of Architects, (IIA) Mumbai, India, I am affiliated with the Royal Institute of British Architects (RIBA). As Vice-President Education at CIAT, this honorary position will be the value-quotient of bridging Architectural Technology as the key focus domain amongst the four established domains in architecture and built environment education. My motivation to undertake research on architecture students' approaches to learning is based on the vast potential in this research area and its connection to real-life examples pertinent to professional practice and management of Architectural Technology in the built environment. I have further connected Architectural Technology through the facets of interior design, architecture, and urbanity in the built environment as the focus of my coursework delivery at SoDA - MAHE Dubai and in my current position at Amity University Dubai. In August 2022 as a Chartered Architectural Technologist, I have undertaken hands-on training and skill-builder experience in Autodesk building information modelling (BIM) environment as further grounding to my phenomenographic qualitative research analysing issues in the technological domain of architecture and design education.
My current role as Associate Professor and Programme Leader at Amity University Dubai is a summarisation of the research hypothesis at WSA, a look-back at my post-graduate research in the early 2000's focusing on passive-solar sustainable strategies at Sir J.J. Mumbai, India; further reflecting on the qualitative and quantitative schism required in the mindset of a Chartered Architectural Technologist. My manifesto for the position of Vice-President Education will be towards further contribution to the architectural technological domain by enhancing the value-proposition of this noble profession in the built environment and construction industry by propelling, evaluating and encouraging a new generation of Chartered Architectural Technologists and CIAT Accredited programmes in this region. In my academic career, I have given emphasis to interface between academia and industry focusing on research and development with specific emphasis to professional consultancy through external research projects based on the preamble of CIAT.
The intrinsic value of my role as Chartered Architectural Technologist at CIAT is further reflected in the ongoing research work of architecture and interior documentation, conservation and urban renewal research being carried out at Al Mahatta Museum, Sharjah and Al Mulla Plaza, an architectural landmark of the 1980's in Dubai, UAE. My strategic initiatives include interface with government approval bodies including CoA – India, University Quality Assurance International Board (UQAIB), Knowledge and Human Development Authority (KHDA), Dubai International Academic City (DIAC), Dubai, UAE. As Honorary Officer – Vice-President Education, I will act as an ambassador in presenting the role required to be played by future Chartered Architectural Technologists as-well-as CIAT Accredited programmes amongst institutions in the MENA region and Indian Sub-continent.
The Honorary Officer position of Vice-President Education – CIAT and the encompassed duties as a Trustee of the Executive Board for the Institute will be a continuation in my established career path as a built environment academic and Chartered Architectural Technologist. I will endeavour to continue my hard work and efforts towards the Strategic and Corporate Plans of CIAT in parallel to my goals presented in this manifesto.
linkedin.com/in/ashok-iyer
orcid.org
researchgate.net/profile/Ashok_Iyer
scholar.google.ae/citations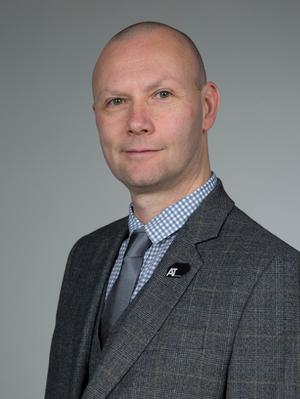 I am very pleased and proud to be nominated for the post of Vice-President Education for the elections in this coming September. I started my professional career as a Chartered Builder and came to membership of CIAT in 2004 while I was a partner in my own design and development practice along with my other two partners in the organisation. It has been with this membership that I have found a true professional home that I have become increasingly proud to represent over the years. I have previously been very involved locally, but now focus on involving myself nationally; as a member of the Education Board; as Chair of programme Accreditation Panels; as one of the Moderators of the Membership Assessment Panels; and interviewing candidates on interview panels.
As a previous Vice-President Education, I was part of the team that produced the apprenticeship standard for Architectural Technology; I was involved in the early stages of the Member Grade Review and new Fellowship grade of membership; working with the then new aspirATion Groups in the Regions and Centres to help establish them as the successful part of CIAT's structure they are today; along with representing the Institute at numerous conferences and exhibitions and promoting membership at every possible opportunity in the Regions and Centres.
Through this I have had the very good fortune to work alongside the strong and dedicated staff team we have at Central Office and the equal fortune to meet and work with many of our members from all of our Regions and Centres.
The modern educational landscape
The landscape of education has seen a number of changes in recent and not so recent years. We have seen higher education opened up to a much wider audience than was ever thought possible by previous generations. In parts of the UK, we have seen funding for higher education changing in focus to place much more of the responsibility for funding with the individuals receiving that education and for all of us we have seen a leaner economy placing more demands on graduates entering all industrial sectors. Alongside all of these changes we have seen a growing number of Architectural Technology degrees in the UK and overseas in more recent years.
As a practitioner in higher education, I have seen how these changes in policy have impacted on the sector. The modern student is much savvier individual and much more demanding as a consumer of the educational product. This extends to their choice of industry to enter and choice of career path in that industry that will give them the best prospects on exiting higher education and into their professional career.
This is not really a new concept though. It would be difficult to find anyone who had studied without employment as one of their key aims and motivations for attending university. With a wealth of research and evidence available linking graduate employability to the success of the modern economy.
A reasonable expectation of employment is also not a new idea for potential students and graduates, what is new is the industry they are entering. Rapidly evolving technologies and processes, changes in legislation and increasing demands from clients are all shaping the future of the Architectural Technologist.
A lot of work has been done so far by the Institute, myself and other members in the education sector to increase and maintain quality in a set of strong undergraduate degrees and a small number of masters and other postgraduate programmes.
My first promise – I see this as key underpinning work for the future of the profession, and I will continue to push for and champion maintaining and increasing quality in our undergraduate and postgraduate provision in the UK and around the world.
Industry and education – removing barriers, engaging in conversation and increasing cooperation.
As I have already stated, it would be difficult to find anyone studying at university that did not have employment as one of their key motivators for study. Equally, it would be difficult to find an employer that would not be looking for new employees with the skills at attributes to be successful in the role they are seeking to fill in their organisation.
I see engaging in conversation, breaking down barriers and increasing cooperation as key to both industry and education.
Key to education providers and students in their understanding of industry requirement in both technical knowledge and competency and those skills and attributes needed to work successfully in industry.
Key to employers to both help set the employment landscape, requirements and expectations in education and gain a better appreciation of the education output.
My second promise – to promote closer links between industry and education as a key element in improving our educational output.
Broader and deeper - the future role of the Architectural Technologist and the profile of the Institute
I have had the great fortune to interview for membership some exemplary new members in recent years that has seen our membership grow in numbers and more importantly in depth of experience and knowledge.
The dedication to their area of expertise and passion has stirred considerable emotion in me at times.
Recognising the evolving possibilities for the Architectural Technology graduate is a key element to the future importance of the profession and the Institute.
The Chartered Architectural Technologist is ideally placed to be a key future player in integrating and realising many key agenda in the built environment, developing new techniques, processes, materials and technologies, and working as leading-edge practitioners.
If the profession is to progress and increase its profile, it is essential that this starts with the enlightenment of those considering a career in and already studying Architectural Technology of the potential and possibilities that could unfold.
My third promise – to champion the broader and deeper future of the Architectural Technologist and to promote the Institute as having a membership of leading-edge professionals taking the built environment forward in the 21st Century.
Research and development – the Chartered Architectural Technologist at the leading edge
Following on from the broader and deeper membership profile and from closer cooperation between education and industry, a natural next step for both of these is to look at how this cooperation can be focused into research and development projects seeing the Chartered Architectural Technologist taking a lead in solving real world problems and contributing to the development of materials, components, ideas, concepts, processes and procedures that make up the built environment process.
My fourth promise – to help to build on the good work being done already and promote the involvement of the Chartered Architectural Technologist in this.
Summary and conclusions
So what am I promising? I don't think I am promising anything radical or direction changing. Too much good work has already been done by previous post holders and ordinary members alike to do this.
What I would like to promise you is an experienced academic and practitioner who will be a champion of excellence in education; promoting a strong collegiate of UK and overseas educational establishments; seeking to broaden the possibilities for the Architectural Technology graduate and so increasing the profile of the role and the Institute.
I feel that the profession of Architectural Technology and the professional body that goes along with it has an important role in the future of the built environment, and I feel I can be an active Member who will champion our pathway into that future.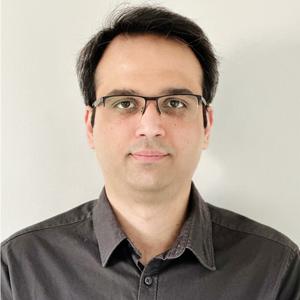 I am a graduate of Nottingham and Liverpool Universities with a background in architectural engineering. I have 11+ years of experience in both industry and academia. As a Fellow Member of CIAT, I am committed to advancing the field of Architectural Technology. I am also the programme leader of a CIAT Accredited MSc at Edinburgh Napier and had the opportunity to take leadership roles within the Architectural Technology community. I am a research active academic and saw the impact of my research works reflected in a report from Intergovernmental Panel on Climate Change (IPCC) and in the UK parliament Research Briefings and Public Health Scotland website.
I will bring a strong commitment to the AT discipline and the Institute, I will bring a research-focused perspective to CIAT to stay ahead of future trends and invest our resources to further advance the AT profession. I possess a robust network of professionals and intend to enhance networking and collaboration with other professional organisations for mutual benefit. My objectives, aligned with CIAT's Strategic and Corporate Plan are:
1. Educational development: I will develop the educational capacity of CIAT through AT curriculum development, collaboration with engineering bodies, CPDs and other learning opportunities.
2. Industry and academia collaboration: I will expand CIAT's networking events and other opportunities to develop a more meaningful relationship between academia and industry
3. Internationalisation: I will help CIAT to make more connections, build more global partnerships and gain more from the educational market globally. For that, I will develop more inclusive policies, expand the training events for members and celebrate diversity within the organisation.
I will work tirelessly to implement these goals and to promote the value of education as a means to a better future for all. I kindly ask for your vote based on my qualifications, experience, and commitment to the mission and goals of CIAT. Some reasons why you should vote for me are:
1. My relevant experience: I have the knowledge and skills necessary to excel in the role and make a meaningful impact on the organisation.
2. My passion for the mission: I am deeply committed to the mission and goals of the CIAT and will work tirelessly to promote the value of education and support the organisation's work.
3. My ability to lead: I have the leadership skills to effectively guide the organisation and inspire others to get involved.
4. My willingness to listen and learn: I am open to feedback and willing to learn from members to make informed decisions and improve the organisation.
5. My ability to collaborate to achieve common goals
6. My track record of success and demonstration of my positive impact
I hope you can support me as the Vice- President Education.
Vice-President Practice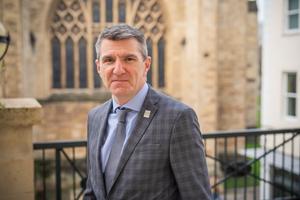 It is a great honour to be once again nominated as Vice-President Practice of the Chartered Institute of Architectural Technologists. As the current incumbent in role, I have been in position since November 2021 and have relished the challenge since I took office. Over my time as Vice-President Practice, I have been fortunate enough to have communicated with many members and been involved with some of the changes that have happened with the Institute and the industry over the last year or so. It has also given me a great opportunity to better understand the role and the value that it brings to the membership.
My background in the industry goes back to my art college days in Aberdeen in the 1990's, but after experience in several employment sectors, including exhibition work and logistics, I have now been in continued professional architectural practice for 20 years this year. I have a first-class Honours degree in Architectural Technology from Northumbria University, which I undertook on a part time basis from 2006, alongside previous qualifications in spatial design. Having had the benefit of working across a wide section of projects in practice, I had the opportunity to develop professionally, with considerable responsibility from early in my career. I set up my own practice, Aditus Architectural Services Ltd, in 2015 and have seen the business grow from being just myself at home, to three of us in an office in Cumbria with a fantastic and varied client base. We were lucky that we were kept busy during the pandemic and have come out of the other side in a stronger position than when we entered it.
Outside of Architectural Technology, I am an on-call firefighter with Cumbria Fire and Rescue which is a paid role where I turn out from an alerter at all times of the day and night. My experience in architecture has on occasion been invaluable to my firefighting work and both roles provide me with transferable skills. I currently also run a lacrosse club in Cumbria and coach men's, ladies and junior lacrosse in my spare time.
Since joining CIAT and being a Chartered Member for close on twelve years I have undertaken several roles in the Institute, including Regional Chair, Regional Councillor and now Vice-President Practice. As well as this, I have twice been on the board of Trustees of CIAT and have been a Professional Interview Assessor for the Institute for over a decade now. I have always felt that professionally CIAT has given me so much, that it is and has been a pleasure to give back whenever possible.
Why am I seeking re-election to the role? The first year after taking office has been varied and interesting but has also been a learning curve. As well as working on issues relating directly to the role of Vice-President Practice and the Practice Department, I have also been heavily involved with the institute business through my position on the Executive Board. As members may know, we have as a Board been heavily involved in the appointment of a new Chief Executive, a responsibility I and others have not taken lightly. Alongside this, the ongoing legislative changes brought on by the Building Safety Act 2022 and changes in building regulations have, and will, continue to have a massive effect on all practitioners, no matter your core discipline or whether an employee, employer or sole practitioner. I feel that my job is not yet done and will not be by the time of the AGM this year when my original 2-year tenure ends. I also feel that I am growing into the role and am best placed to be in position over the next two years as changes bed in and our membership requires as much support as possible.
As stated in 2021, it is incumbent on the Vice-President Practice to work within the aims of the Institute and within the current and future Corporate and Strategic Plans. Over the last year, I have sought to build on the work of my predecessors and the Practice Department, with only small but positive changes to ensure the continued effectiveness of the role. Looking again sat the five core tenets of the Corporate and Strategic Plans 2018-23 and the incoming new strategic plan, I can offer the following explanation of how I would see my continued role in supporting the aims of the Institute and its members and affiliates.
Leading and promoting the discipline of Architectural Technology and protecting its standards.
I would like to continue to engage with as many members and affiliates as possible to help understand their requirements in practice, both as employers and employees and to also engage with those who employ are members but are not themselves directly connected to the Institute. Perhaps more now than ever it is important that we understand what our membership require from practice services and as a global institute. It is vital that we continue to remove as many barriers as possible to the fair representation of our profession and ensure a level playing field for our members, both those who run practices and those who are employed by them. We cannot allow changes in legislation to marginalise or unfairly inhibit our members right to practice as part of collaborative teams or within our own Code of Conduct. The continued work that the Institute does to evaluate legislation, opportunities and promote our members is inspiring and I am proud to play a small but hopefully significant part in that work.
Enhancing the profile of the discipline, the membership and the Institute
Perhaps even more so than when I came into office, I believe that our profession produces some of the most enthused, adaptable, and talented individuals within the construction industry. We must continue to get this message across, and I will continue to do so at every opportunity. As the world continues to open-up, I hope to take this message to people a lot more in person over the next two years. A great deal of the industry discussion is still 'virtual' and I have had the pleasure of representing the Institute over a wide genre of topics related to the Practice Department. I will look to continue my work with the other Vice-Presidents to continue to foster a unified approach in how we work for the members interests. With elements of Practice and Technical being so closely linked, we are for instance currently looking at how we best organise the work of the institute to the benefit of our staff and members. It is also vital that we continue to promote the Institute's values and skills and continue to provide our membership with the information and tools required to continue to be industry leaders. Whilst a lot of this work takes place quietly in the background, it is vital to the interests of our members and affiliates, and I will continue to give my time to make sure we provide the best service we can.
Aligning, collaborating and partnering
CIAT continues to have solid domestic and international partnering agreements and memorandums of understanding. I remain strongly in favour of working with other institutes and organisations for the mutual benefit of our members in practice. Given current legislative changes, it is vital that we continue to engage with those representing our collaborative partners and complimentary professions to continue to ensure our members retain their current and future rights to practice in their own regard and retain their high value and status as appropriately qualified and recognised professionals. I will continue to undertake work understanding both how other professions are responding to industry changes and how we can seek to promote a combined approach and maintain fair competition. It is also vital that the work undertaken to promote the rights our non-UK based members to practice unhindered continue and I will continue to promote the interests of all CIAT members and affiliates in this regard.
Providing services for the benefit of members and society
After my nomination in 2021, I pondered how we could deliver the best value for our members in practice. I continue to believe that the greatest benefit the Institute offers to our members is recognition as competent professionals, through membership and the standards that we uphold. I am glad to be involved in some projects that seek to further enhance member benefit and will work over my remaining time in office to see them into fruition. I still believe that we are well placed to deliver on those professional services that the membership requires and hope to identify areas of interest that we can progress. Alongside the Practice Department I will continue to monitor legislation and if required I hope to be at the forefront of delivering the tools that our members will require to continue to practice across all sectors. A strong viable membership is vital to providing benefit to society, not only through the incredible work our members do in the built environment, but also by the professional and progressive nature of our institute and membership.
Remaining an effective and financially viable institute
Membership value maintains membership numbers, which in turn helps to ensure the Institute remains financially viable. I therefore seek to continue my work in supporting member value and identifying how it can be enhanced over time. As a Vice-President of the Institute, I have also had a lot of input through the Executive Board as to how we our run and how we best determine expenditure and investment. It is a perhaps less known role of the Vice-Presidents that we sit on the board of Trustees and seek to make decisions solely for the benefit of the Institute and membership. I am a vocal participant with a strong desire to see us ensure good governance and sound financial sense so that we can continue to deliver on the vital services we provide.
I continue to be surrounded by positive and supportive people in both my professional and personal life and am in a good position to offer a further two years of my time to this role. I am incredibly positive about the future and about the work I have and continue to be involved in. We are rapidly becoming one of the most inclusive and forward-thinking Institutes and profession and I hope that I can continue to do my bit to keep up on the same trajectory. I do believe we can do more to remove some of the institutional stuffiness that comes with a nearly 60-year-old Institute and will continue to encourage our members to input and shape our future. I am incredibly honoured that I was trusted with one term in office and sincerely hope that you might consider electing me to a further two years as Vice-President Practice.
---
Key dates
Campaigning by candidates
27 February - 8 September 2023 inclusive
Election e-alerts and updates on the website
27 February - 8 September 2023 inclusive
Election at Council
9 September 2023
Candidates advised if not in attendance at Council
E-alert announcing the election results
11 September 2023
Assumption of position
November 2023 close of 2023 AGM