Opportunities to become an ABS Trustee or Committee Member
Architects Benevolent Society is looking for Architectural Technology professionals to join its Board of Trustees and committees.
Architects Benevolent Society (ABS) is a charity dedicated to helping past and present members of the architectural community and their families. Their support includes confidential advice, help with physical and psychological difficulties and financial assistance, allowing more people within our community to live rewarding and fulfilling lives.
If you would like to use your unique skills and experience to help ABS achieve its aims at a very exciting time for the charity, please read on.
ABS is currently looking for volunteers to join its Board of Trustees, Welfare Committee and Development & Engagement Committee.
All roles are unpaid but expenses will be reimbursed.
To read more about what each role entails, download the document below.
Visit the ABS website for recruitment packs and more information.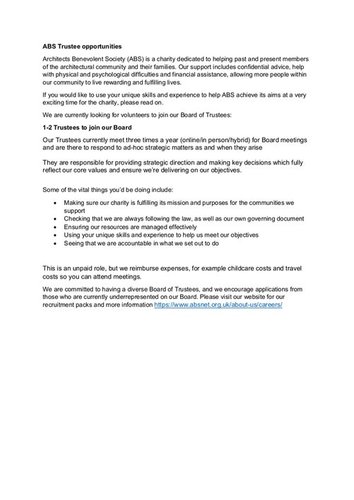 Click to view this PDF online