Prime Minister sets out plan for living with COVID
The UK Government sets out plans to live with and manage the virus.
The Plan, published this week, sets out how vaccines and other pharmaceutical interventions will remain the 'first line of defence', the Government says.
The plan covers four main pillars:
Removing domestic restrictions while encouraging safer behaviours through public health advice, in common with longstanding ways of managing other infectious illnesses
Protecting the vulnerable through pharmaceutical interventions and testing, in line with other viruses
Maintaining resilience against future variants, including through ongoing surveillance, contingency planning and the ability to reintroduce key capabilities such as mass vaccination and testing in an emergency
Securing innovations and opportunities from the COVID-19 response, including investment in life sciences
All domestic legal restrictions will end on 24 February, which includes removing the COVID-19 provisions within the Statutory Sick Pay and Employment and Support Allowance regulations.
Download the guide below: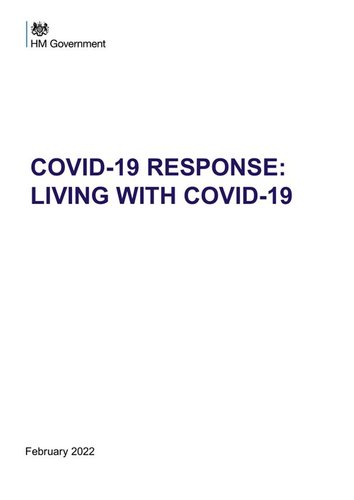 Click to view this PDF online