Exhibition hosted by University of Brighton explores AI visions of a sustainable future
An exhibition of Artificial Intelligence (AI) rendered visions of the built environment that integrates the natural world has opened in Brighton.
From 27 January to 7 February, visitors to the University of Brighton's Centre of Contemporary Art (CCA) will have the chance to explore the potential of AI-rendered art to inspire solutions for a world impacted by climate change and environmental degradation.
The AI algorithim behind the show has delved into myriad concepts and imagery around 'green architecture' to generate its own visions of a world where nature is integrated totally into the structure of urban buildings, from houses to skyscrapers.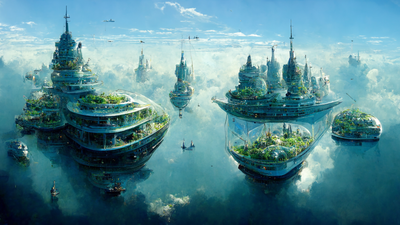 The exhibition, which is free to attend, is the brainchild of Dr Poorang Piroozfar FCIAT, a Reader in Architectural Technology and Digital Construction at the University of Brighton and Dr Eric Farr, an Honorary Professor of Architecture and Design at University of Liverpool.
Dr Farr said: "Our planet is on the verge of passing a turning point beyond which there might be no imaginable return. Questing after a healthier, more liveable built environment, we have turned to a collective public imagination of a healthy planet."
Dr Piroozfar added: "Building on a range of human inputs, AI has assisted us with re-imagining visionary illustrations of the future in which environmentally responsible architecture dominates our urban landscapes."
Exhibition details
S.O.S: Let's share our dreams for more sustainable futures and healthier communities
When: 27 January – 7 February 2023, 12:00 - 17:00
Where: Brighton CCA, Grand Parade Building, BN2 9JA
Website: www.brightoncca.art