'Remarkable house' in south London listed by Historic England
A house in south London has been listed at Grade II after Historic England said its 'remarkable survival' showcased the 'architectural ideals of the 1930s'.
Completed in 1936 by designers Leslie Kemp and Frederick Tasker, Number 10 Dorchester Drive, in Herne Hill, is one of two houses built to a winning design featured at the 1934 Ideal Home Exhibition at Kensington Olympia.
The five-bedroom, detached house has external walls of rendered brick, with metal casement windows and a flat, concrete roof. The original house is rectangular in plan, with a curved bay to the south elevation at ground level. The open-plan ground floor allows rooms to be opened out into a single long entertainment space and the building still has original features such as Crittall windows, bathroom fittings – including a separate shower – an iron staircase and a roof terrace.
According to Historic England, the house is a 'well-preserved and relatively early example of a modernistic house marketed towards adventurous clients as an affordable way to obtain a modern lifestyle'. The listing follows an application by the Twentieth Century Society.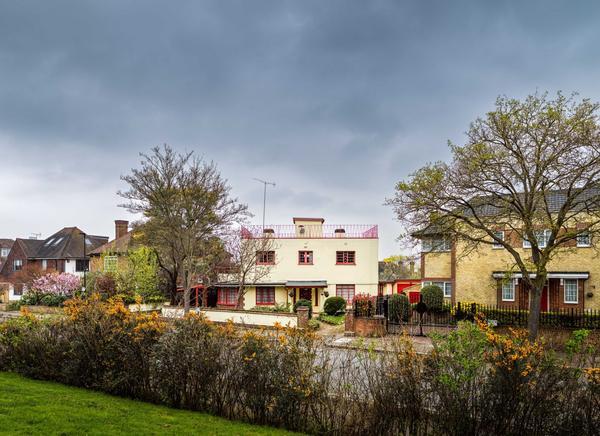 The building has been relatively untouched as it was owned by the same family for more than 60 years. It was sold in February for £1.6 million, according to Zoopla. In the same month, Lambeth Council imposed a Building Preservation Notice to prevent any demolition at the site.
A Historic England spokesperson said: "This is a remarkable survival which transports us back to the architectural ideas of the 1930s where "dignified simplicity" was favoured over excessive ornamentation.
"The significance of this building has now been recognised and any future change can be managed effectively, so that it can function as a modern home and retain its special character."
The other surviving example of Kemp and Tasker's Ideal Home Exhibition-winning design is at 77 Addington Road in West Wickham, Bromley. The building, which is also Grade II listed, has now been altered and extended and is used as a health centre.
This article originally appeared on Architects' Journal