Virtual CSCS cards launched
The Construction Skills Certification Scheme (CSCS) has launched virtual CSCS cards alongside a new app.
The virtual CSCS card is the same as a plastic CSCS card but is accessed via this 'My CSCS app' on a smart phone or tablet.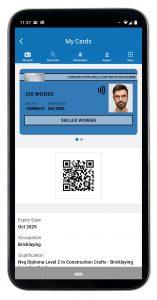 The virtual cards provide the cardholder and their employer with access to the individual's training and qualification records.
Alan O'Neile, CSCS head of communications, told Construction Manager: "This is a game changer for CSCS cards. The technology will improve safety and efficiency on construction sites by making it easier for the employer to check that workers hold the appropriate qualifications and training for the job they do on site."
Virtual cards are generated automatically and can be downloaded via the My CSCS app as soon as a CSCS card application is approved and payment is taken. Cards can then be used staight away on site, before the traditional plastic card has arrived in the post.
For more information see the article by Construction Manager at: constructionmanagermagazine.com/virtual-cscs-cards-launched/
To learn more and download the app visit: www.cscs.uk.com/applying-for-cards/my-cscs-virtual-cards/