From the President
My term as your President draws to a close and I write this knowing that my Presidency has been like no other! When I was elected as President Elect three years ago, Coronavirus, COVID and pandemic were not words we knew or used. We thought pandemics were in the past which we learnt about in history, such as the plagues and the Spanish flu.
Since 2018, the world has changed and will continue to transform, led by four key factors and events. These have, and will, impact the way we live, work and socialise now and in the future. However, it is important to recognise that there are, and will be, opportunities for Architectural Technology professionals to lead on to create new environments and solutions for us to live, work and socialise.
These four impacts are
COVID-19 - the pandemic.
Climate change – achieving net-zero.
Building and life safety – the Building Safety Bill and new building safety regime.
Brexit – working within the UK and across the globe post Brexit.
They all compound with each other, are interrelated and consequently how we respond to them must be cohesive, real and focused.
---
COVID-19
Although restrictions across the home nations and internationally have relaxed, I maintained my contact by engaging with as many Regions, Centres and aspirATion Groups as I could by attending meetings and events remotely. These have been the main mechanism which members and affiliates have maintained their networking and have worked well, although online meetings and gatherings can never replicate the physical interaction. The networking of members and affiliates via meetings, and CPD events such as the CPD in 43 series have been exceptional and demonstrates the commitment of you at a local level.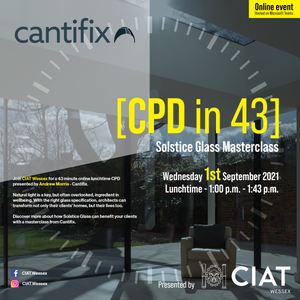 Following the second 'lockdown' which ended in the summer, I am delighted to have been able to some return to meetings and gatherings in person, with attendance at industry receptions, Regional awards events and of course our highly successful AT Awards in October, more of that later.
---
Climate change | COP26 and adaptation, mitigation and finance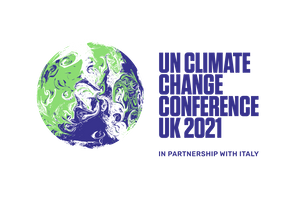 The recent UN Climate Change Conference in Glasgow (COP26) brought home the reality of the world having to work collaboratively to aim for the main goal to 'secure global net zero by mid-century and keep 1.5 degrees within reach.' ukcop26.org/cop26-goals
This requires us to recognise that how we live will, and must, change and that we must adapt now and much more radically in the future.
The built environment and Architectural Technology professionals must find solutions and present positive actions to be a part of reaching this target. With this in mind, we have an ambitious Climate Action Plan which crosses all the facets to CIAT, from education, membership, CPD to providing support to members and affiliates in their employment and also those with CIAT Chartered Practices to help inform and educate clients and other stakeholders. Architectural Technology professionals place in this process with their skills in adaptation, mitigation and solution finding is critical; we must be a key influence in those that rely on built environment solutions and those who fund or approval projects.
We endeavour to work collaboratively with fellow professions across the sectors where we can benefit and support each other; this provided the opportunity for your Chief Executive to attend COP26 as a UN observer as a Board member of the Society for the Environment, of which CIAT is a licensed member. Gaining and sharing knowledge and solutions is also an essential component to achieving the very real goals that are necessary. The agreement reached may not be as strong as that was required, but that does not prevent us from responding with definite actions.
---
Building and life safety
As well as a pandemic and climate change, I, as President, together with our building safety team have also been closely involved with the proposed new building safety regime responding to the Building Safety Bill and also the implications and impacts of Brexit.
The Building Safety Bill was published, which we responded to in October , and most recently the Architects' Regulation | Call for Evidence. To this, we responded with very real concerns about the quality of the call for evidence and the implications of issue of such a call, our response was submitted in early November. . To reassure all those who are a part of CIAT, we are working with the Department for Levelling Up, Housing & Communities, DLUHC (formerly known as Ministry of Housing, Communities & Local Government, MHCLG). We have and will continue to have meetings with DLUHC in relation to this.
---
Brexit
With the UK leaving the European Union, there have been many activities which your Institute has been involved in relation to regulations, codes, materials and also movement of professionals and shortage of skills. CIAT has representation on a variety of working groups and has contributed via the Construction Leadership Council.
---
Other key highlights | Strategic and Corporate Plans 2018–23
The Executive Board, Council together with the team at City Road maintained the ongoing and routine work and ongoing projects focused within the Strategic and Corporate Plans 2018-23.
This ensures that CIAT as a dynamic, forward-thinking and inclusive global membership qualifying body for Architectural Technology, provides services for the benefit of our members, affiliates and society in order to contribute to structures that are effective, buildable and sustainable.

As a reminder, the current Strategic Aims are:
leading and promoting the discipline of Architectural Technology and protecting its standards;
enhancing the profile of the discipline, the membership and the Institute;
aligning, collaborating and partnering;
providing services for the benefit of members and society; and
remaining an effective and financially viable Institute.
Whilst implementing its aims, CIAT will continue to uphold our values of
integrity and ethical behaviour;
transparency and professionalism;
innovation and creativity;
equality and diversity;
quality and standards;
collaboration and inclusivity; and
health, welfare and safety.
---
From this broader range of activities I am delighted to detail a snap short of some of them which have taken place during the last year which have had a real and positive impact for the profession, discipline and Institute
Introduction of Fellow Member, FCIAT
In spring, the Institute formally launched its Fellow Member, having been piloted and tested.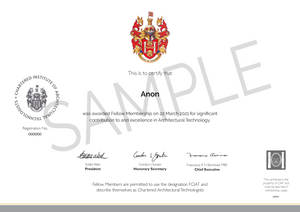 Fellow Membership, FCIAT, complements the 'Chartered Architectural Technologist' professional qualification and is an acknowledgement of a Chartered Member's significant contribution to and/or excellence in Architectural Technology.
The benefits of being a Fellow Member include:
The designation, FCIAT which sits alongside the protected descriptor 'Chartered Architectural Technologist'.
It is an acknowledgement of your significant contribution to and/or excellence in Architectural Technology from your Institute and peers.
Distinction within Architectural Technology.
It gives additional external recognition and eminence from colleagues, peers, clients and employers.
It forms part of the continued profile-raising of Architectural Technology as a discipline and profession.
It offers the opportunity to be involved with, and represent the Institute within your area of excellence and/or significance.
It enables you to be part of the built environment community of Fellows.
The quality of applications from Chartered Architectural Technologists to gain Fellow Member has been exceptional and to date the Fellow Panel has awarded nearly 80 Fellowships.
Honorary Fellow, HonFCIAT
In tandem with introduction of Fellow Member, we introduced Honorary Fellow, the intention of which is to award such an honorary to a non-member or affiliate:
who is eminent in their field, and whose work has had a positive impact on Architectural Technology; and/or
for their significant contribution to and/or excellence in Architectural Technology; and/or
who has a significant and continued association with Architectural Technology.
Honorary Fellow is by nomination only and cannot be applied for and nominations are considered by the Honorary Fellow Panel.
---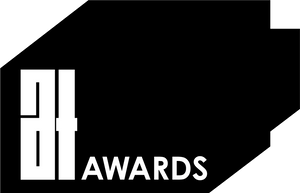 As President, this is one of my favourite activities for the profession and discipline.
CIAT has a range of AT Awards recognising excellence on Architectural Technology, this year we introduced two new categories:
Emerging Talent in the Technology of Architecture
Which has been introduced to recognise Associate members and Chartered Architectural Technologists with a professional career path of ten years or less. This Award recognises and celebrates excellence and achievement demonstrated by a professional within Architectural Technology, the technology of architecture.
The Award sits alongside the Chartered Architectural Technologist of the Year Award and the Gold Award. It is for an individual's contribution in achieving excellence as an emerging professional in Architectural Technology. The winner is awarded for their contribution to the profession with the focus on the person and their outstanding contribution to date within the discipline of Architectural Technology. The first recipient of this Award was Matthew Willemsen MCIAT.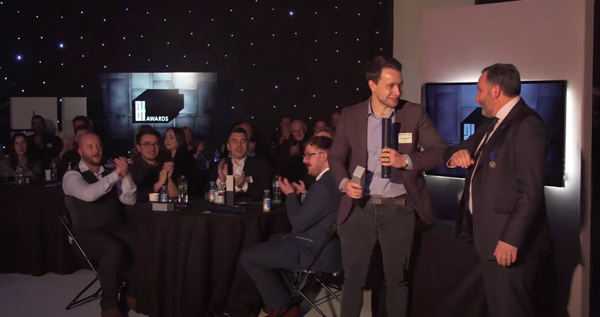 and
The President's Medal
The President's Medal recognises and celebrates an extraordinary distinction or exceptional contribution to Architectural Technology and the profession. It is awarded once in any one Presidential term (a maximum of one every two years) and at the discretion of the President.
The Award is for an individual's contribution having made a tangible difference to the profession and discipline and demonstrates how the recipient has or have given an exceptional contribution to Architectural Technology and the profession. It excludes work undertaken on behalf of the Institute. The recipient is a Chartered Architectural Technologist and selected by the President.
It gave me immense pride to select Professor Sam Allwinkle PPBIAT FCIAT for the inaugural President's Medal.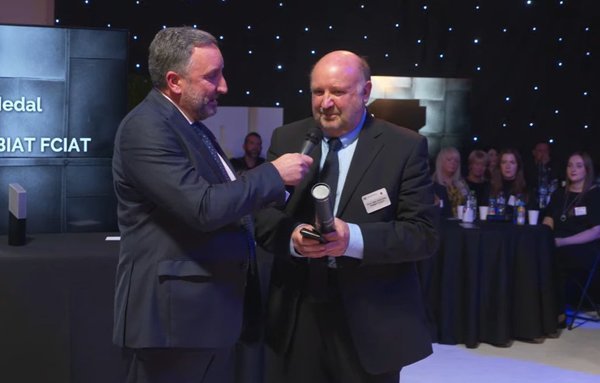 The AT Awards event with took place at the end of October was a fabulous event where we welcomed the Finalists to join us at the studio in South London, and for all other guests to watch the live stream, with an amazing 1500 people joining us to watch the event live. If you missed the opportunity to watch the AT Awards and celebrate AT as a discipline, please do watch it here.
---
CIAT Chartered Practices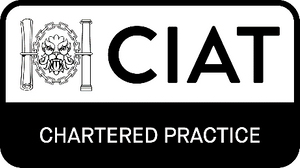 With the new membership and affiliate structure being implemented, we also gained approval from the Privy Council for the use of the protected title 'CIAT Chartered Practice' which demonstrates that those practices who are registered with CIAT, have had to meet the specific requirements set by CIAT to gain registration and also comply to the Code of Conduct.
For Chartered Members who run CIAT Chartered Practices, we have also introduced a range of services as practice support or for promotion.
These include revised and updated site signboards, a plaque and a certificate for the practice plus the use of the CIAT Chartered Practice logo.
---
Education
At the end of this year, CIAT's portfolio consists of 37 Accredited Honours degree level, seven Accredited Masters degree level and eleven Approved programmes; the Institute's highest number to date. These courses will also be supported by the development of apprenticeships which are evolving in the home nations. For England, FAQs were developed.
International development and overseas Accredited programmes
Despite the global pandemic, our International and Education Departments have continued with our overseas reach, networking and development.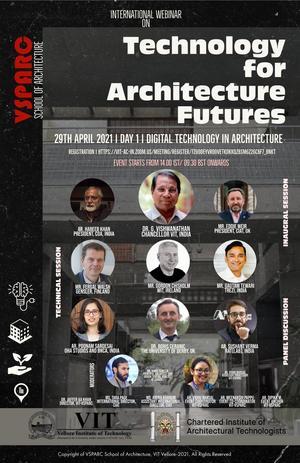 In the spring, CIAT in collaboration with Vellore Institute of Technology (VIT) India, held a three-day conference titled 'Technology for Architectural Futures', bringing in speakers from different parts of the world. As President, I was the Guest of Honour and spoke about the discipline and the Institute. The President of the Council of Architecture (COA), the regulatory body for architects, Professor Habeeb Khan gave the opening address.
Other keynote speakers across the three days were Fergal Walsh, Principal at Gensler in Finland, Marc-Aurel Schnabel, Dean of the Faculty of Architecture at Victoria University of Wellington, New Zealand and the Chair of the Architectural Science Association (ASA) with which CIAT has a collaborative arrangement, and Geetha Ramamoorthi, Operations Director at Atkins Global.
To watch the conference click here.
Manipal Academy of Higher Education (MAHE) India and UAE held a two day online international symposium in collaboration with CIAT. It took place in early November and aimed at students of MAHE, those affiliated with MAHE, as well as students from other CIAT Accredited programmes. The theme of the event was 'Real vs Virtual Technology, Design and Urbanity'.
Zigurat Global Institute, an online global educational organisation with two of its programmes Accredited by the Institute, held an online conference in April 2021. Titled Àgora BIM event, it connected the BIM community and to encourage and showcase the benefits of the use of BIM. Dan Rossiter FCIAT presented a case study at the event, titled Big Fish in a Swim Lane: The Benefits of Business Process Notation, and later joined the panel discussion. The Institute's participation in this event has helped to further cement our relationship with Zigurat and promote ourselves to a global audience in the field of BIM.
Accredited programmes
At the recent AT Awards, I was delighted to add to our overseas list of Accredited programmes with the presentation of certificates of Accreditation for the first time to Galway-Mayo Institute of Technology, Manipal Academy of Higher Education and Technological University Dublin.
Quality Assurance Agency Subject Benchmark Statement for Architectural Technology
Architectural Technology professionals have been leading on the review of the SBS for Architectural Technology. The Expert Advisory Group, Chaired by Professor Sam Allwinkle PPBIAT FCIAT, has taken the opportunity to ensure that the SBS is fit for the future and the knowledge graduates should be expected to know on graduation.
A SBS describes the nature of study and the academic standards expected of graduates in specific subject areas. It outlines what graduates might reasonably be expected to know, do and understand at the end of their studies. Alongside discipline-specific information, the revised Statements consider the role of equality, diversity and inclusion (EDI), education for sustainable development (ESD), enterprise and entrepreneurship, and accessibility for disabled students within the context of the respective discipline area.
---
Quinquennial inspections of churches | Church of England
After many years of negotiating and patience in waiting for the wheels of change to take effect, we were delighted that the Ecclesiastical Measure was updated and now provides for CIAT-Accredited Conservationists as eligible to undertake work as a Quinquennial Inspector. Church buildings in the UK must be inspected every five years and the inspection must be carried out by a suitably experienced and qualified professional.
---
Specialist Registers | A reminder
The Institute runs two specialist registers one for CIAT-Accredited Conservationists and the other for Chartered Environmentalists.
---
I would like to thank you as members, affiliates, staff and colleagues for your support of CIAT and all the activity it does.
I am handing over at this time of significant change; I will as your Immediate Past President continue to give my time, knowledge and commitment in influencing and supporting this wonderful profession.
I look forward to working with Kevin Crawford, incoming President and also with the team developing the Strategic and Corporate Plans 2023–28.
Thank you
It is a great time to be an AT!

Eddie Weir PCIAT
President
---
Summary financial statements
The full financial statements were audited by Begbies, Chartered Accountants and approved by Council on 4 September and signed on its behalf by Eddie Weir PCIAT, Chair.
Summary balance sheet

| | 30 April 2021 £ | 30 April 2020 £ |
| --- | --- | --- |
| Tangible assets and investments | 1,259,019 | 1,257,807 |
| Current assets | 1,917,851 | 1,211,623 |
| Current liabilities | (183,095) | (82,881) |
| Provision of deferred taxation | (89,201) | (89,201) |
| | | |
| Net assets | 2,904,574 | 2,297,348 |
| Capital and reserves | 2,904,574 | 2,297,348 |
Trustees
| | |
| --- | --- |
| President | Eddie Weir PCIAT |
| President Elect | Kevin Crawford MCIAT |
| Honorary Secretary | Gordon Souter MCIAT |
| Honorary Treasurer | Doug Fewkes MCIAT |
| Vice-President Education | Dr Matthew Brooke-Peat MCIAT |
| Vice-President Practice | Rob Thomas MCIAT |
| Vice-President Technical | Steven Hedley MCIAT |
| Councillor Trustee | Nooshin Akrami MCIAT |
| Councillor Trustee | Adrian Fleet MCIAT |
| Councillor Trustee | Carl Mills FCIAT |
| Councillor Trustee | Michael O'Keeffe MCIAT |

Deputies (Councillor, without voting rights on Executive Board)
Dan Clements MCIAT
Chris Yorke MCIAT
Chief Executive
Francesca Berriman MBE HonDTech