Designing for sustainability: Tools to help you design greener
In November 2021, the eyes of the world turned to Glasgow as it hosted the UN Climate Change Conference of the Parties (COP26) and once again brought the issue of climate change into sharp focus.
The need to halt global warming has reached a crescendo and it is clear that the actions we all take as individuals, communities, companies and countries will make a difference to generations to come.
Sustainability challenges for the construction sector
According to the UK Green Building Council, the built environment is responsible for around 40% of the UK's carbon emissions. About 50% of the sector's emissions are from buildings in use; from heating, lighting and cooling.
Architectural Technology professionals, architects and engineers have a unique responsibility to dramatically reduce both the embodied carbon emissions that are created at all stages of a building's construction or refurbishment, and the operational carbon emissions that are created through heating and cooling.
The RIBA 2030 Climate Challenge was developed to help meet net zero whole life carbon for both new and retrofitted buildings by 2030.
The value of passive design
Passive design approaches, coupled with sustainability and locally sourced materials, can help to reduce the CO2 emissions caused by our buildings. By testing and combining different approaches and options, Architectural Technology professionals can find the optimum solutions for each building to maximise its sustainability.
Solutions such as shading, pre-cooling of supply air, night purging, natural ventilation, air-tightness, mechanical ventilation with heat recovery (MVHR), insulation, avoiding thermal bridges, passive solar gain, and exploiting internal heat sources can all be employed, some of which are discussed below.
Sun studies and building orientation
Wherever possible, a building should be positioned to make the best use of the sun as it moves throughout the day. By orientating a building in this way, you will require less equipment to achieve thermal indoor comfort through either mechanical or electrical heating or cooling.
Natural ventilation
Natural ventilation is the movement of air throughout the building without any need for mechanical strategies such as fans and extractors. This can be achieved with openable windows and doors to benefit from the prevailing winds as well as sky courts and atriums to help prevent over-heating. For successful natural ventilation, the higher the ceiling levels, the better, as the air becomes cooler at the occupants' head level.
Shading systems
Shading systems such as louvers, balconies and overhangs can be incorporated into the building façade design in several ways, using a range of different materials. To help work out the optimal size and angle of the shading device, there are a number of websites which have solar angle calculators such as the solar electricity handbook.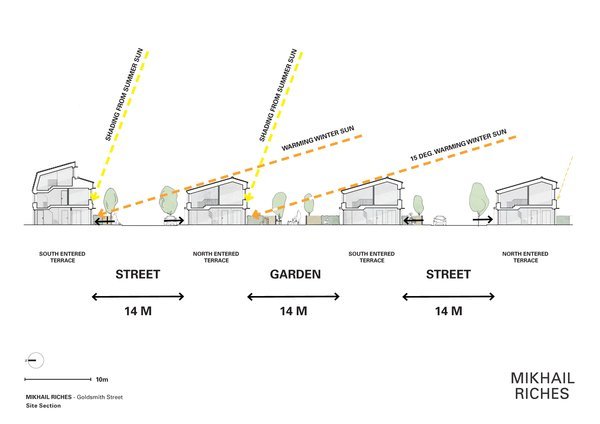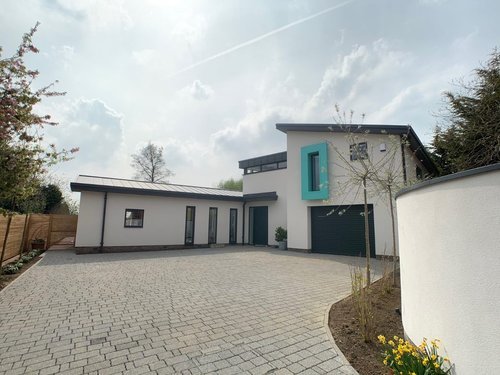 Water collection
When designing sustainable buildings, rainwater collection is a fundamental design decision which is often overlooked. Rainwater should be collected, purified and used for grey water in the building. Systems can be a combination of passive design solutions (pitched roofs, etc.) and mechanical solutions for harvesting the water and pumping it back into the building.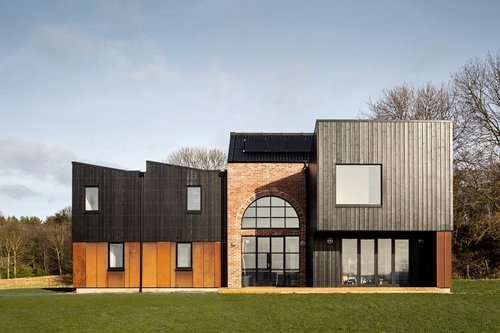 Fabric first
Choice of materials is one of the most critical elements of sustainable design. Availability and performance are the main factors to consider and recyclable, energy efficient materials with low costs should be the first choice.
When considering material choices for sustainable buildings, it is important to consider both the thermal mass – the ability to store heat energy – and the carbon footprint of the material. For more information, the BRE website includes a comprehensive guide to sustainable products and materials.
Tools to help you design greener
When designing new buildings, or retrofitting existing structures, there are a number of tools that can support Architectural Technology professionals, architects and engineers in design, calculations and decision making.
Tools such as Graphisoft's Energy Evaluation, included with ArchiCAD, can be used in the early stages of design to carry out multiple simulations before the full building has been modelled. It can also be used later to check the thickness of insulation, carry out thermal analysis, check the best use of materials etc.
Energy Evaluation is designed to help undertake energy use calculations to prepare the model to be fully certified externally. The energy performance of the building once it is in use must also be considered and ArchiCAD contains a full catalogue of building materials that have been assigned their properties so you can easily calculate energy usage.
Other software examples include ANSYS Fluent, Bentley Hevacomp, AECOsim, EnergyPlus (EERE), Ecotect, Graphisoft's EcoDesigner STAR, SAP, Vectorworks Energos, Insight, Project Solon and so on.
These range from stand-alone applications through to complex spreadsheets resulting in different user experiences, outputs and outcomes. If you are looking for software to help in this area, key questions to ask are:
How easy is the software to use?
How well does it integrate, or collaborate with other software?
Can it render high quality images?
Can it render in real time?
Can it do native thermal simulations?
Does it do daylight analysis?
For those who need software that can complete a full analysis, Graphisoft's EcoDesigner STAR extension is available for all ArchiCAD customers. Users can take multiple reports from the same model and compare changes and revisions to help inform and explain design decisions.
EcoDesigner STAR also offers:
BIM Geometry and Thermal Property Data Export
Thermal Bridge Simulation
Expert Building Systems Settings
On-Site Renewables
Building Energy Simulation Using Standard-Compliant Analysis Engine
Energy Performance of Thermal Blocks
Building Energy Performance Rating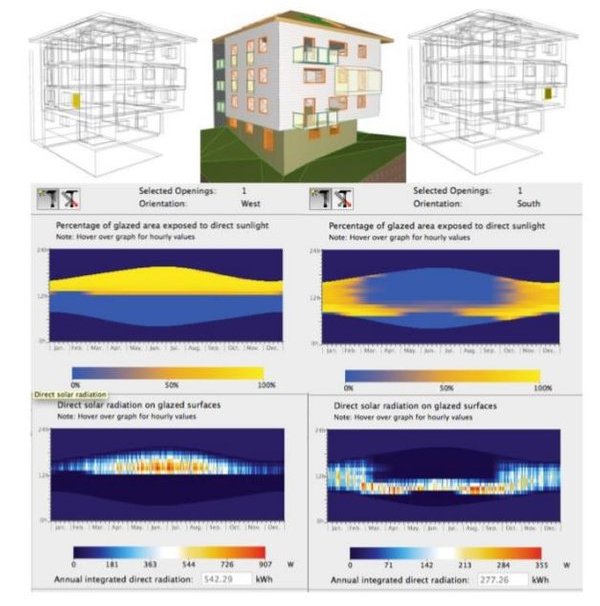 However, if you choose to use a different software for certifications, then it is also straightforward to export directly from ArchiCAD to third party software.
Design for the future
There is no doubt that the ambition to create more sustainable buildings and to reduce energy usage throughout the built environment is challenging.
In addition, there is no 'one size fits all' approach and you will therefore need to consider different options to meet sustainability requirements and targets.
However, by adopting the strategies outlined above, and by using the array of software and tools available to help, you can work towards designing that are both environmentally friendly and comfortable. As a result, you will successfully reduce both energy consumption and energy costs of the building, increase air quality and improve user satisfaction and productivity.
This feature originally appeared in AT Journal - Issue 140