President receives WCCA Award
Each year the Worshipful Company of Chartered Architects (WCCA) present an award to the person or group of people that have provided support to the work of the Architects Benevolent Society (ABS) in the previous year.
This year's award, designed by Jane Duncan OBE PPRIBA, ABS President was presented by the Renter Warden, Chris Dyson at the Annual Election Court Lunch, held at Saddler's Hall on Tuesday 13 July.
ABS were delighted to nominate Eddie Weir PCIAT, ABS Ambassador, as the recipient for all the support he gave throughout the COVID-19 pandemic in 2020.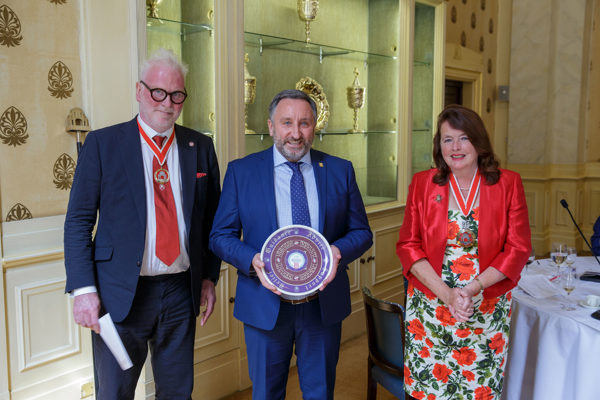 Eddie's support enabled ABS to make new connections with industry organisations that resulted in donations towards the ABS Emergency COVID-19 appeal and long term sponsorship of events of over £10,000. As a result of his strong work ethic and dedication to the charity's cause, in 2017 Eddie was appointed an Ambassador role, committing more of his time to helping people in their time of need. Eddie's involvement with ABS has been paramount in helping to introduce the charity to a big pool of people who have helped raise awareness of ABS support services and get involved in fundraising activities and events across the UK.
Upon receiving the Award, Eddie said: "I send my sincerest thanks to the Worshipful Company of Chartered Architects (WCCA) for their kind words and hospitality, and to my dear friends at the Architects Benevolent Society (ABS) for their continued support to our Architectural family. Thanks to the wonderful Jane Duncan PPRIBA for designing such a beautiful plate. It is an absolute honour to receive such an amazing award. I am truly delighted."