Recipient
Professor Sam Allwinkle PPBIAT FCIAT
Words by Eddie Weir PCIAT
The inaugural recipient of the President's Medal is Professor Sam Allwinkle PPBIAT FCIAT.
With every generation of Architectural Technologists, there are those who particularly stand out, lead by example, inspire and notably drive the Institute's strategy and objectives forward with measurable results; adding value to the profession and discipline of Architectural Technology and CIAT, as its professional body. Since I joined the Institute in 2001, I have witnessed first-hand what Sam Allwinkle has done for the profession and discipline, and I am also very aware of his significant contribution prior to me joining. The longevity of Sam's commitment, drive, enthusiasm and motivation of others is truly remarkable; he has been a role model for me and many of my colleagues.
There is no finer example, in my mind, of someone who has enriched, progressed and advanced the discipline as much as Sam; he is simply 'Mr Architectural Technology'. There are many examples which could be cited demonstrating Sam's achievements for Architectural Technology, the discipline and profession, both past and present, and activities he is involved in to ensure the profession is at the forefront, take on the real challenges and provide solutions within the sector. This includes representing Architectural Technology and CIAT in preparation for the new building safety regime. His knowledge and experience are proving to be invaluable for both CIAT and other stakeholders with whom we work.
Known for his professionalism, wise counsel and generosity, Sam has been responsible for laying the foundations for many practising Architectural Technology professionals, having trailblazed the development of undergraduate and postgraduate degree programmes in the discipline and establishing CIAT Centre of Excellence status. Sam was instrumental in the development of the QAA Subject Benchmark Statement for Architectural Technology; an external document which demonstrates the uniqueness and distinctiveness of the discipline, and is used by the Institute as a basis for its Accreditation and Chartered Membership standards; giving credibility to our activity. His determined attitude and selfless dedication ensure that Architectural Technology continues to be respected and recognised throughout the built environment sector and beyond, and its value is fully understood. His skill and depth to express his particular vision in his own unique way, have contributed to so many initiatives, policies and projects.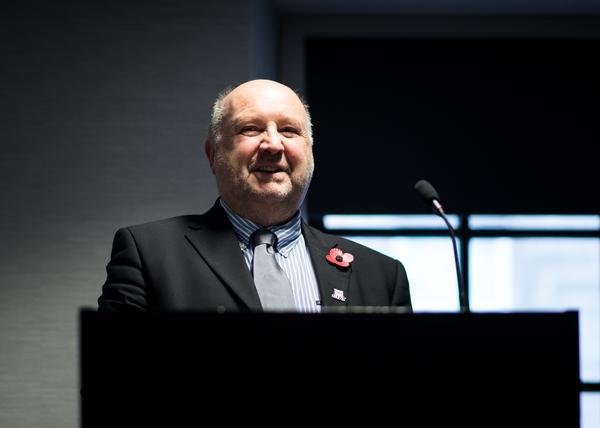 To this day, Sam continues to impart his knowledge and skills to new generations of students, who will become the next future leaders within the AT sector, as a lecturer at Edinburgh Napier University, where he is Professor Emeritus. He was the first Professor in Architectural Technology in 1992 and has loyally dedicated his career and countless hours of voluntary commitment to the betterment of society which can be measured against his numerous achievements.
I am honoured to be the first to present the President's Medal and to its inaugural recipient – Sam, for his extensive contributions to the development of Architectural Technology, as a discipline as well as a profession, both in the UK and internationally.
Congratulations Sam and thank you for all your work, dedication and discerning devotion to our wonderful discipline and profession, Architectural Technology. This citation only just scratches the surface of your exceptional career, contribution and achievements.