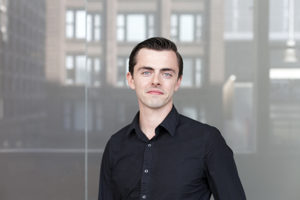 Craig O'Halloran MCIAT
---
Introduction
Craig is a Chartered Architectural Technologist who has worked in Dublin, London, and, most currently, Chicago in the United States.
He has worked on a range of projects with focus on commercial offices, corporate campuses, residential, retail, and transportation.
Craig was educated at the Dublin Institute of Technology, University of Westminster and has recently completed classes through Harvard University. His first major job in the industry was a small Dublin practice specialising in bespoke luxury residential dwellings. Craig then moved to London in 2013 and joined a large residential practice where he worked on large scale residential projects, which ranged from 20 to 440 unit schemes.
Craig has a passion for design excellence and enjoys working on all aspects of projects. Since joining Gensler, Craig has contributed to a number of research projects including 'The Future of Transit', which was published in the Gensler Research Catalogue, Vol 2.
Craig was a panellist for 'Tomorrow's Thinking: Robust spaces in a changing community' a CIAT event as part of the London Festival of Architecture 2016. He is currently a Committee member for The Americas Centre.
Current job role
Technical Designer – Gensler - Chicago Office, IL, USA
Craig's position covers a multitude of project types.
During his time in Gensler's London office, Craig led part of a large retail centre in the Middle East from concept through construction. Craig then went to work on many retail projects, including a brief tenure in Germany for a specific client.
Following that, Craig was project leader for the office's first residential project and became part of the residential department. This involved growing the residential department in London as well as the company's global residential portfolio. As a Passive House Designer, his expertise has been used on a number or projects and he has contributed to blogs on this topic.
Since moving to Chicago in 2016, Craig has worked on many iconic Chicago buildings including the current changes being made to the iconic Willis Tower.
He is also the leader for the Gensler North Central Design Awards—an internal competition focused on the people who make up the region's four offices. This competition aims to shine a spotlight on some of the non-highlighted project work as well as the community work and the passion projects designers take on outside of the office.
Why he joined and qualified
Craig joined the Chartered Institute of Architectural Technologists as an Associate member in 2011 and he became a Chartered Member in August 2014.
Craig wanted to be a Chartered Architectural Technologist as it would qualify him as an 'individual responsible for the highest standards of quality and proficiency in our industry'.
How and when he qualified
Craig qualified through the Professional Assessment route. It allowed him to demonstrate his career and competence based on the projects he had worked on. Becoming qualified also gave him the confidence needed for working as a project leader.
Relevant achievements
Best Conceptual Project – London Planning Awards (2015)
London Underline - Regenerating London's surplus infrastructure through crowd-sourcing Londoners' kinetic energy.
McCauley Daye O'Connell Award (2011)
Dublin Institute of Technology College of Engineering & Built Environment. This is awarded for Best contribution to course in the Department of Architectural Technology annually.